Paul Land | Mike Grellner | Lauren Crosby
Lauren Crosby
Agent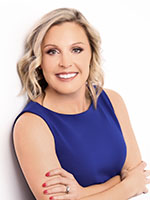 Lauren Crosby is a member of National Association of Realtors, Missouri Association of Realtors, and Columbia (CBOR). Lauren participates in CBOR Women's Network, and Chamber of Commerce Women's Network and Emerging Young Professional Committee (EPIC).
Lauren Crosby graduated with honors from the University of Missouri and entered the work force with a passion for developing young professionals, empowering them to serve their communities with success.
Lauren has over 10 years of experience in the insurance business, specializing in commercial, life, property and casualty insurance.
Throughout her career, she has trained, mentored, and managed staff, helping others achieve their personal and professional goals while leading her agency team to success.
Playing an integral role in a successful business inspired Lauren to branch out into commercial real estate, where she now uses her vast experience and skills to help other businesses achieve success.
Outside of the office Lauren is involved in her local church and serves as Vice President for Klife a local youth ministry.